A look at our patient-family centric caregiving tools in V.10
A New Year, New Capabilities
Below is a peak at some of what occupied our development attention throughout 2021. Specifically, furthering our patient-centric, caregiving technology to better connect and support families -- and friends, health aides, non-profits, etc.-- of at-risk individuals in an easy to use, robust and HIPAA-compliant manner.
Our approach combines a personal EHR, collaboration-rich features with real-time monitoring and communications. While this technology is currently in beta on our MyHealth.Group portal, it will be available to individuals in a production state in early 2022. We will simultaneously make it licensable to healthcare organizations like payers, providers and pharma under various "open" models so they can deploy their own, customized patient-family centric caregiving solutions.
Background
As just a bit of context, the framework that's guided our solution design over the past few years is NOT our own. Instead, it is "borrowed" from others like the NIH -- we've relied on the well known Social Determinants of Health (SDoH) model.
Enabling activities outside the purview of "big iron":
The SDoH graphic below from the NIH highlights six broad areas that impact health outcomes.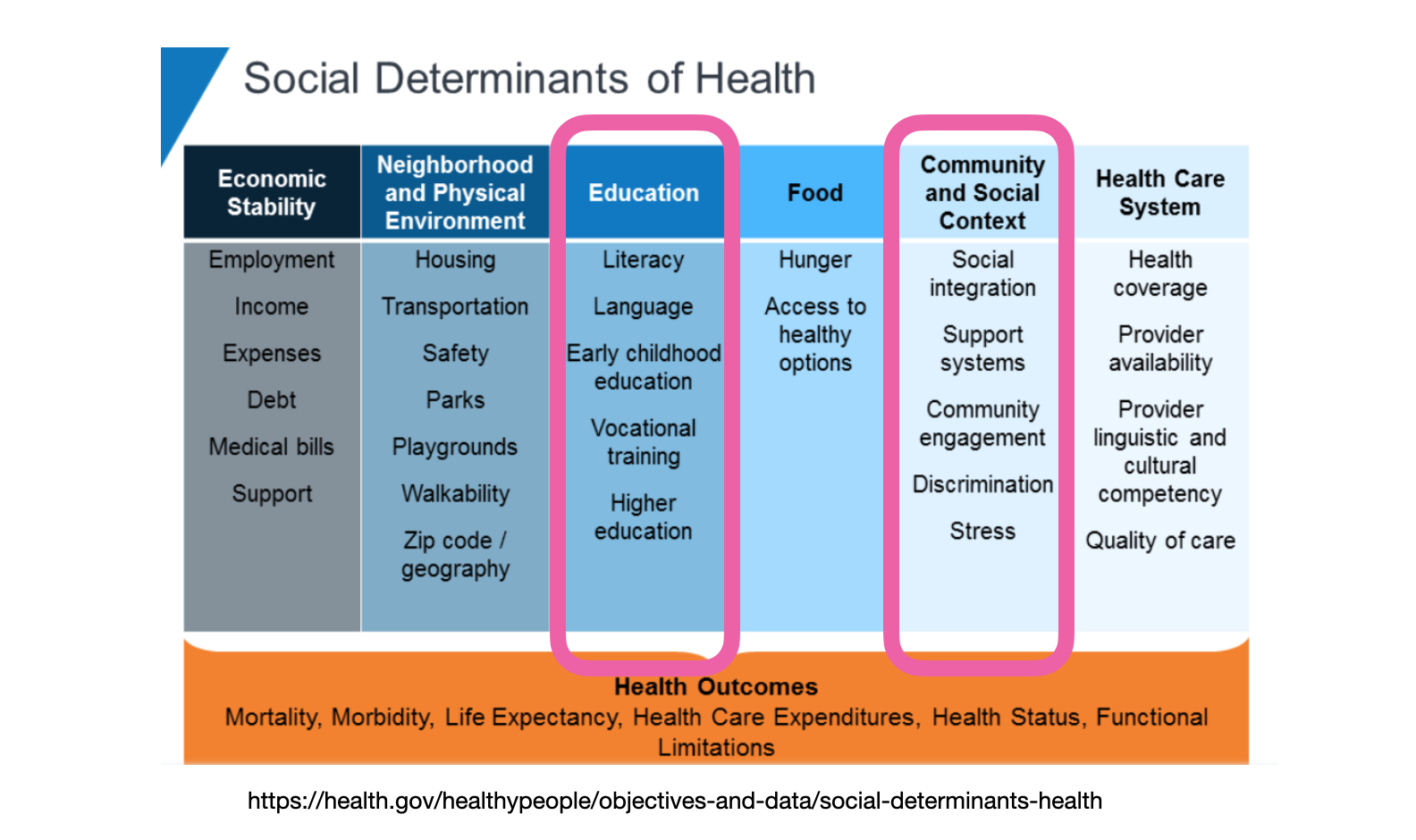 Very simplistically, from a technology point of view the column to the far right ("Health Care System") is the realm of big iron players like Epic. And because the dollars in this column made available by the large institutional players are huge, so are the types and number of systems out there. Again, like Epic.
Our aim is to impact outcomes in the two areas highlighted in pink, Community and Social Context and Education, with lighter weight, more collaborative systems. Which is what you'll see below.
Pictures are worth a 1,000 words:
In that spirit, these images provide a flavor for the capabilities found in our Version 10.
Caregiving Groups
Enabling patient-family centric teams lies at the core of our approach. What you see below is a private caregiving group called "Ivy Dad" and an integrated collection of collaboration capabilities that enable his team (of family members) to stay on top of his care.
[Note: because the group was started by a family member -- versus an institution -- a real name, patient identifier isn't necessary. Everyone invited already knows who Ivy Dad is]
Personal Electronic Health Record
New in V.10 is the inclusion of the Personal Electronic Health Record (P-EHR). The P-EHR allows patients, family members or other anointed caregivers the ability to easily capture and communicate key clinical information at the touch of a button.
The P-EHR does not attempt to be as robust as EHRs found in a hospital or clinic. Which, while having advantages for professional clinicians are simply too weighty and cumbersome for personal use. Instead, the P-EHR attempts to find a balance between being sophisticated enough to be broadly effective while requiring virtually no training to use. The P-EHR includes:
Patient background

Personal health history

Family health history

Encounter notes

Health biometric readings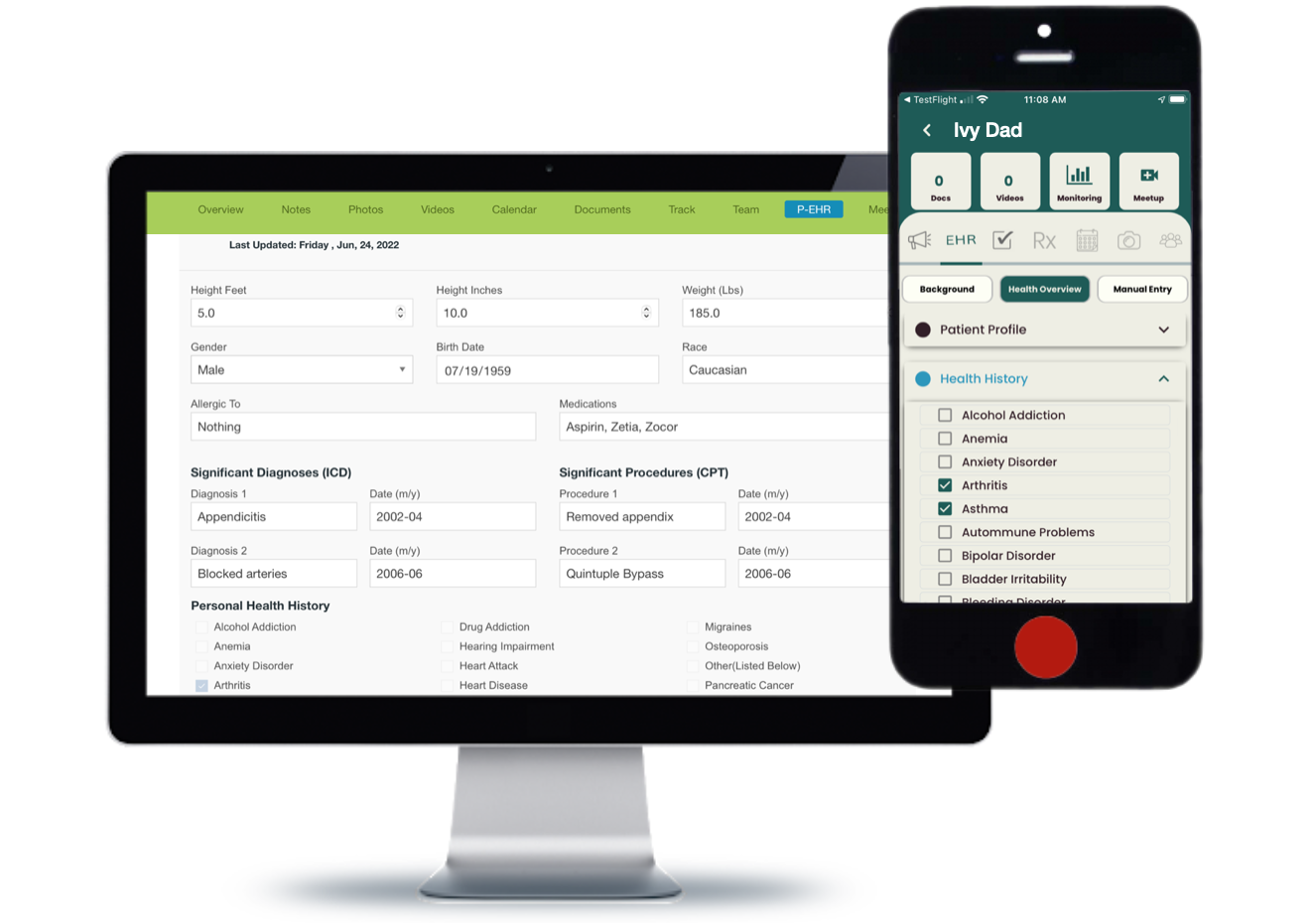 Mobility and Monitoring
Our caregiving tools have been mobile enabled (via a native app) for several years. The mobile interface integrates completely with a web portal so information can be seen and manipulated in whichever form (mobile or web) is preferred by the user.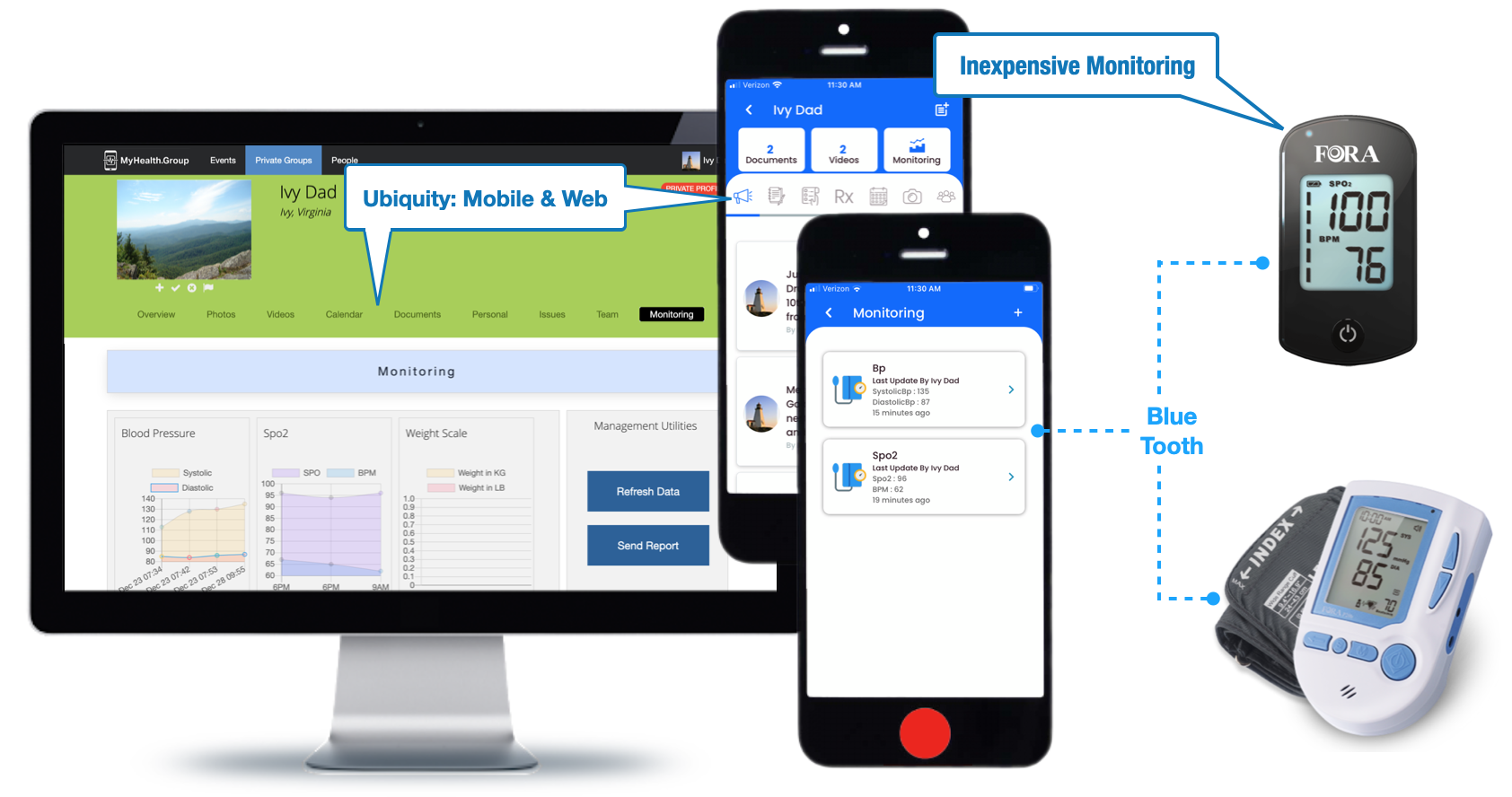 Integrated monitoring of health data captured through devices is also what is new in V.10. Now, user health data (e.g. blood pressure, heart rate, blood oxygen, weight, temperature and glucose) are captured via Blue Tooth connected devices (or manually entered) and thus available to those members of the caregiving team who were given the appropriate permission level to see it. Which is an important consideration -- not everyone on a caregiving team needs or should have access to such data for a variety of reasons.
Reporting & Communications
Information and data are effective but only when they're shared with the right people and at the right time. Caregiving teams have reporting and communications capabilities that make it easy for those (again, with the proper permissions level) to send information to stakeholders outside the group. Such individuals might be healthcare professionals or simply other family members that are more peripherally involved but want to be kept up to date.