Develop systems with a clear path toward what's critical -- delivering long term customer value
Overview:
Over many years (actually, many decades) we've guided dozens of large and small companies -- including several we founded -- in designing, building and deploying a wide range of products, services and systems. Over these many engagements and through considerable trial and error we evolved a development approach we've found to be both useful and easily applied. We call this method Lifetime Value System Design (LVSD).
LVSD is based on a core reality: Customers must be the center of the universe with long-term customer relationships the objective and measure of when things are running well. System design and development should be guided accordingly.
While we have not seen others apply the term Lifetime Value System Design its component parts will look familiar as LVSD incorporates four well known methods. Though the four are not pedagogically or systematically integrated they are innately complementary so when successfully applied in coordination it can be 4 x 1 = 10. The four balance and support one another sort of like peanut butter and jelly -- it's not always easy to explain why they work together, they just do.
The methods LVSD applies:
Lifetime Value of a Customer

Enterprise Architecture

Open Strategies

Continuous Improvement
A particularly good thing about utilizing the LVSD approach is because it's fundamentally a synthesis of broadly accepted methods there are literally thousands of quality videos, abstracts, case studies and training materials easily found on the internet to assist in its application. And most for free.
Component 1: Lifetime Value of A Customer (LTV)
The notion of Lifetime Value of a Customer is LVSD's "true north." LTV is well-written on by premier strategy consulting firms like McKinsey, Bain and BCG.
Beginning with understanding LTV focuses all that an organization's main purpose is an on-going, profitable and repeatable focus on providing value over a customer's "lifetime." The longer and more robust that life, the better for all. When organizations optimize to attract, retain, sell to and delight customers everything flourishes. LVSD aims to align with that reality at both strategic and tactical levels.
LTV is both a metric and a goal. Mechanically it's an estimate of the average revenue (worth) that a customer generates over their lifespan. This worth determines economic and business decisions including marketing budgets, resource planning, forecasting, organization alignment, operations, and yes, system development.
The graphics below illustrate two related and important concepts around LTV.
Graphic 1: Illustrates the concept of segmenting LTV along financial value given customers are not all created equal -- at least in terms of the monetary value they deliver.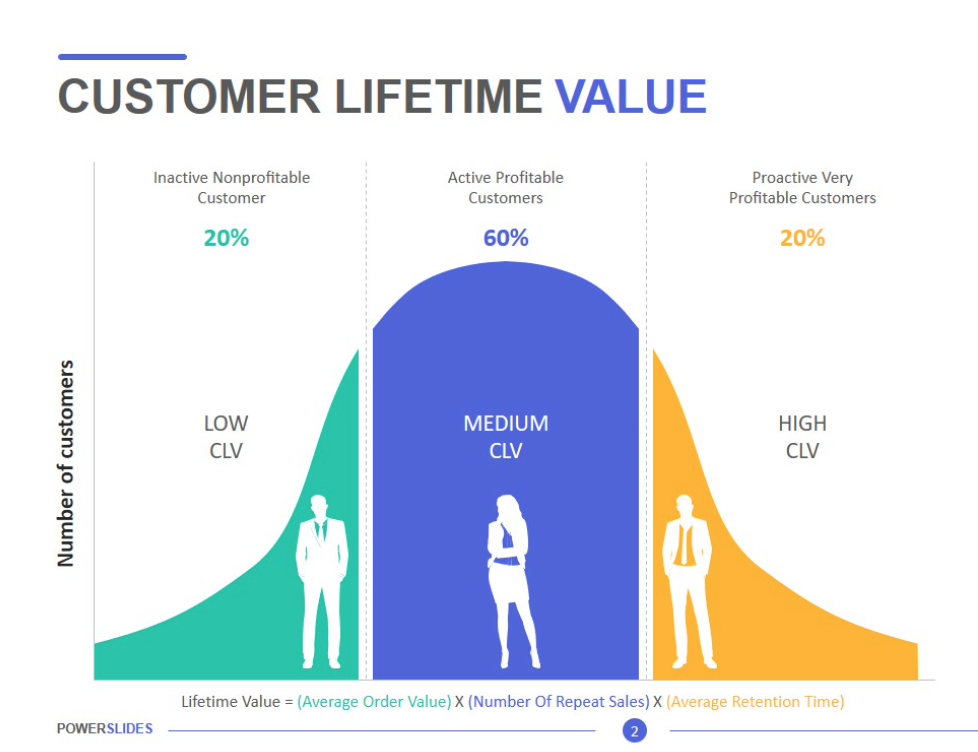 Graphic 2: Illustrates the notion of "Share of Wallet". This is the concept that once engaged organizations need to (and can) move toward deeper and deeper relationships ultimately ending at the "Trusted Partner" level.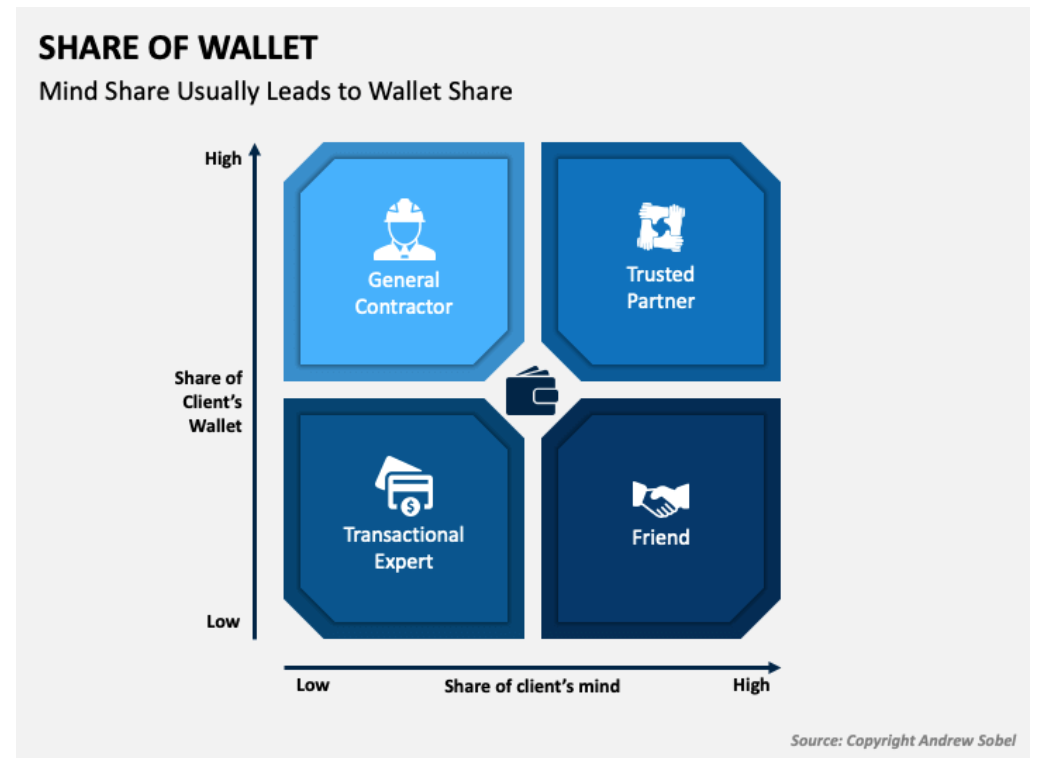 Component 2: Enterprise Architecture (EA)
Enterprise Architecture is also written on extensively and well by top operational consulting firms like Booz Allen and Deloitte.
EA is a holistic, conceptual framework that provides methods to comprehensively define, organize, standardize and document an organization's structure and interrelationships in terms of certain critical business domains.
Graphic 3: Illustrates, in two slightly different ways, the 4 most common components considered to comprise EA: Business Architecture, Data Architecture, Application Architecture and Technology Architecture.

This short video describes in simple terms the four elements and how they relate.
Component 3: Open Strategies
Open Strategies is a broad, loose fabric that involves methods, tools and assets. These elements can be narrowly or broadly employed and can touch virtually all of an organization's stakeholders in one way or another, including front-line employees, experts, suppliers, customers and sometimes even competitors.
Dimensions of Open Strategies include Open Source Software, Open Standards, Open Data and Open Innovation
Graphic 4: Illustrates the benefits of just two of the many flavors that constitute "open": Open Source software and Open Standards.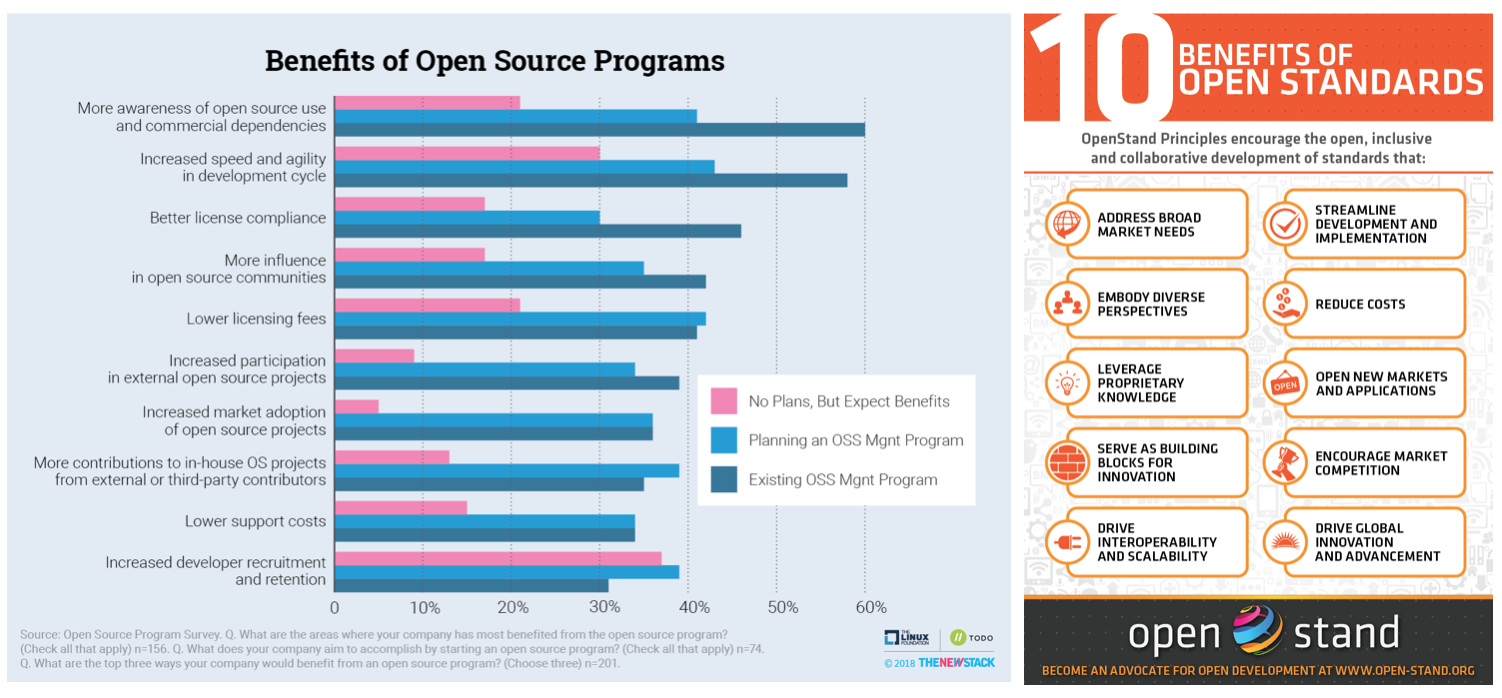 Component 4: Continuous Improvement (CI)
Finally, if Lifetime Value of the Customer is the true north of our approach, that is, where an organization should be headed on its journey, Continuous Improvement can be thought of as both the vehicle and the roadmap for getting there. While it's critical to know where you want to go (long term customer relationships), without a robust toolset individuals, departments and groups within an organization can't effectively work together. CI creates the conditions and methods for enterprises to be successful on what is a never-ending journey: acquiring, satisfying and retaining customers.
The core elements of CI and of its many cousin quality management and process methodologies -- QI, SPC, TQM, Lean, Agile, Six Sigma, etc. -- were developed and popularized greatly through the efforts of W. Edwards Deming and Joseph Juran, two post-World War II process engineers. Today CI and the other quality methods are used in one form or another by vitually every great company the world over.